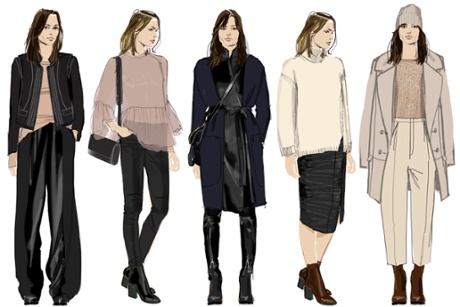 (Photo:MarieProm formal dresses)
It's not easy, being socially and environmentally conscious, and a passionate fashion lover too. The good news is that you can really make it work. All it takes is the right mindset. Keep thinking fashion but make sure to choose products with longevity and learn how to care for and dispose of your clothes in a climate smart way. You can even contribute to closing the loop in fashion!
Fashion consumption involves buying, wearing, caring and disposing of clothes. Each step can be done more sustainably. And it's easy. This is how:
1. Build a wardrobe of great fashion essentials
Don't go for boring basics but sharp, well cut, high quality indispensable pieces with longevity; like the perfect blazer, crisp cotton shirts, simple T-shirts, cool slacks and favourite jeans, a pencil skirt, classic knits, a pea coat or lumber jacket and a great coat. Chances are you already have at least half of the above and whatever you don't have you should spend time finding. This doesn't mean that the best pieces need to be from the top end designer brands and cost a fortune.
Great fashion essentials may just as well be part of any high street brand's seasonal collection. Most fashion professionals are always on the lookout for wardrobe staples that really make a wardrobe work, from season to season. Because as much as you love fashion, looking stylish and cool should be effortless. That's why timeless black is every fashionistas preferable colour. And everything just looks exquisite in black.
"Women think of all colours except the absence of color. I have said that black has it all. White too. Their beauty is absolute. It is the perfect harmony." - Coco Chanel
2. Make sure you stay inspired
Every season is a new start. Look at the designer collections online, read fashion magazines, check out the latest movies, exhibitions and study people in the street. Most designers get their best creative input from studying people. How can you update your look this season? The secret is that you don't need to buy all new. You update what you have. Alter the shape of tailored pieces to stay modern, add a belt to accentuate the waist, roll up your trousers, layer your clothes for a new silhouette and work your accessories.
It's not about what you wear but how you wear it. And if you have a good foundation of fashion essentials you don't need much to look fabulous. Changing your lipstick colour or hairstyle can do the trick too!
3. Cut your climate footprint in half by being mindful about how you care for your clothes
Lowering the temperature from 60C to 30C, or from warm to cold when machine washing your clothes cuts energy use in half. And by hang drying your clothes instead of tumble drying you save plenty of energy, as well as your clothes. Ironing also requires a lot of energy. Try bringing your washed, creased clothes with you into the bathroom while showering and let the steam do the job. Hand wash silks and knits carefully, even if the care label indicates dry cleaning. Most brands put dry clean on the label to avoid blame from washing disasters but the truth is that hand washing, when done correctly, is the best option.
Most importantly: don't wash your clothes too often. Underwear and socks need frequent washing, of course, but for many other garments it's enough to air them overnight after each use.
4. Don't ever let fashion go to waste!
Unwanted clothes can be swapped with friends (your trash can be someone's treasure, and vice versa), sold as secondhand or handed in for recycling. Some brands have recycling service in store and offer a discount for your next purchase in return for unwanted clothes. H&M launched their recycling initiative a year ago, and are already making collections made with recycled fabrics from garments collected in their stores. This closes the loop in fashion, making new clothes from the old, which is the whole idea of the initiative.
"I love the idea that we can all contribute to a more sustainable fashion future. Handing in your unwanted clothes, in any condition and from any brand, to H&M gives us the opportunity to use as much as 97% of the collected goods which is more than most other organisations. I:Collect, our partner, sort the collected goods to re-wear, reuse and recycle. I'm amazed that we could already put the recycled fibres in production of a mini collection of denim last spring. This is the future!", says H&M's creative advisor Margareta van den Bosch.Read more at:MarieProm cocktail dresses